AUSTRALIA
Greater Sydney 'put on notice' for further coronavirus restrictions as the Northern Beaches re-enter lockdown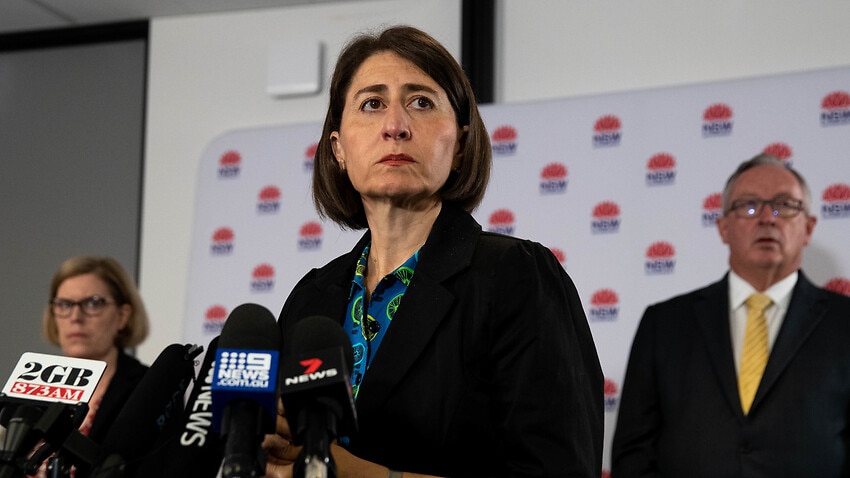 Sydney's Northern Beaches entered lockdown on Saturday evening after the coronavirus cluster in the area grew to 40 cases overnight.
Speaking from Sydney on Saturday morning, NSW Premier Gladys Berejiklian said there were 23 new cases recorded in the 24 hours to 8pm on Friday night, including 10 cases already announced on Friday.
Twenty one of the new local cases were locally acquired and are linked to the Avalon cluster, and a further two remain under investigation.
The Premier said Northern Beaches residents will be asked to stay home unless leaving for one of four essential reasons: grocery shopping, work, compassionate grounds including emergency medical treatment, or visiting an isolated relative.
"Essentially, we will be going back to the restrictions that were in place back in March, just for the local government area of the Northern Beaches," she said.
The area will be locked down from 5pm on Saturday until midnight on Wednesday. 
There were 12,374 tests recorded to 8pm on Friday. 
Ms Berejiklian said authorities "will be considering" applying restrictions to the rest of Sydney.
"To put everybody on notice, we will be considering today, after consulting with the relevant people, whether this time tomorrow we do revert back to some restrictions in Greater Sydney," she said.
"I want to put everybody on notice that this is a possibility and will depend on the health advice sent to us during the course of the day."
She urged Sydney residents outside of the Northern Beaches to limit non-essential activity outside of the home.
"If you are planning a night out tonight, we ask you to consider changing those plans on staying at home. We want people to stay at home tonight and the next few nights so that we can ensure the virus does not spread."
Dr Kerry Chant noted that "overall" the cases are predominantly linked to the Avalon RSL and Bowling Club, urging people to remain "vigilant".
She said authorities had received an exposure notice for Anytime Fitness in Avalon, with an alert issued after a positive case visited the centre while potentially infectious.
Anyone who visited the gym between 6-8 December and 11-12 December is required to isolate for 14 days, with the gym closed until further notice.
NSW Health Minister Brad Hazzard thanked the community for their "amazing response" over the past 36 hours.
"I would say to Northern Beaches residents, I know it is disappointing, I share your disappointment," he said. "I was going to be heading off on Christmas morning but I am not doing that now. Events have been cancelled. We are going through this together."
Acting Chief Medical Officer Professor Paul Kelly said authorities "are working on the hypothesis" that Patient Zero arrived into Australia from the United States on 1 December.
"The molecular genomic testing of the virus suggests that is where it probably started," he said on Saturday afternoon. "That is, in a sense, Patient Zero."
But he said authorities are still working to identify the link between that case and those who became infected in Avalon nearly two weeks later.
"We haven't identified the gap – how the virus got into the Avalon RSL," he said. "We had a clue overnight about the slightly earlier case from the Avalon Anytime Fitness – that person became ill on the 10th. We are getting closer to closing the gap. There is still a mystery about how that actually happened."
NSW Health authorities have issued a lengthy list of venues visited by confirmed cases.
The updated list includes numerous places around the Northern Beaches, but also Cronulla RSL Club, Penrith RSL Club, Westfield Bondi Junction, a Turramurra hair salon, a Woolloomooloo restaurant and other venues and transport routes around Sydney.
The warning periods range from 11 December to 16 December.
On Friday afternoon, health authorities issued a 72-hour advisory to wear masks when indoors. The advisory does not extend beyond the beaches region.
The state Labor opposition says the measure does not go far enough, calling on the government to make masks mandatory on public transport, in supermarkets and shopping centres and in places of worship.
Other states acted on Thursday and Friday to prevent the cluster jumping borders, with more barriers for NSW residents erected by Western Australia, Victoria, Queensland, Tasmania and the Northern Territory.
Anyone who enters WA from NSW will be forced into 14 days of self-isolation, and people who have been in the Northern Beaches will not be able to enter Victoria or Queensland without quarantining.
Genomic sequencing has connected the cluster to a US strain of the virus, which may have entered NSW in a returned traveller in early December.
That traveller has never left the hotel quarantine system, meaning the connection between that case and the northern beaches remains unclear.
"If we get on top of this in the next two or three days, all of us will be able to have a much better Christmas," Ms Berejiklian told reporters on Friday.
Prime Minister Scott Morrison wants Australians to remain calm and follow the health advice.
Mr Morrison acknowledged public anxiety had risen in response to the NSW cluster but assured it would be handled.
"There is no magic formula that just makes the pandemic go away, so the states will continue to manage it," he told reporters in Canberra.
"They're going to do their job and I'm going to do my job.
"Together we will continue to ensure that Australia has one of the best records in the world of both managing the impact of COVID-19 during this pandemic globally, as well as ensuring that the economic comeback that has begun in Australia continues to move at pace."
The Northern Beaches has been declared a commonwealth hotspot due to the rate of new cases.
The declaration ensures the region has more support for residential aged care facilities, access to more personal protective equipment and contact tracing.
'The behaviour of individuals will be fundamental'
Health Minister Greg Hunt says the next few days will be critical.
"We've prepared for this moment," he told reporters on Friday.  
"We've always said that while we're doing extraordinarily well there would be outbreaks, there will be circumstances where local clusters emerge, and we thank the northern beaches population for their action.
"The next few days will be critical and the behaviour of individuals will be fundamental."
With many Australians planning to travel for the holiday period in the next few days and weeks, all eyes will be on the Sydney cluster.
With AAP.
People in Australia must stay at least 1.5 metres away from others. Check your jurisdiction's restrictions on gathering limits.
If you are experiencing cold or flu symptoms, stay home and arrange a test by calling your doctor or contact the Coronavirus Health Information Hotline on 1800 020 080.
News and information is available in 63 languages at sbs.com.au/coronavirus. Please check the relevant guidelines for your state or territory: NSW, Victoria, Queensland, Western Australia, South Australia, Northern Territory, ACT, Tasmania.