Dallas
Nicholas makes landfall as a category 1 hurricane along Texas coast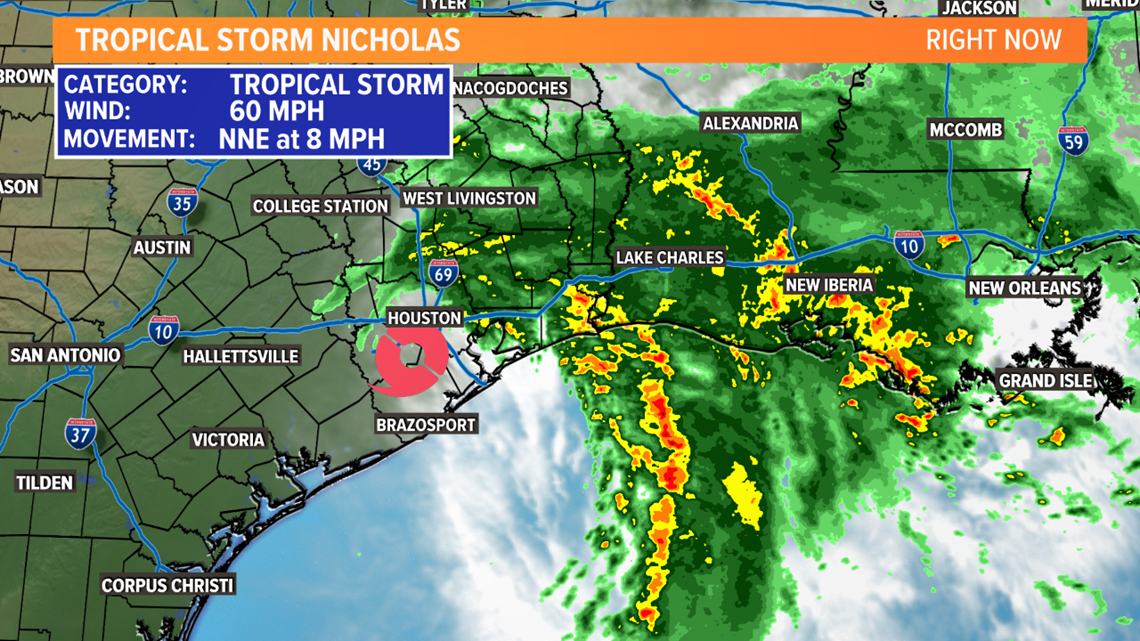 Nicholas made landfall along the Texas coast Monday night as a hurricane, bringing heavy rain and flooding. Coastal areas could see storm surge and strong winds.
DALLAS — Latest update: 7 a.m. Tuesday.
Nicholas made landfall as a category 1 hurricane along the Texas coast, on the eastern part of the Matagorda Peninsula with 75 mph max sustained winds with gusts up to 90 mph.
Tropical Storm Nicholas
As of 7 a.m. Tuesday morning, Nicholas is a tropical storm, and is slowly weakening.
It currently has winds of 60 mph and the center of the storm is just south of Houston.
The heavy rain and flooding threat has ended for the Houston Metro, but strong winds are still likely the rest of Tuesday
Nicholas will continue to move northeast across southeast Texas and into Louisiana over the next couple of days.
The storm will weaken in terms of wind speeds becoming a tropical depression Tuesday into Wednesday. However, heavy rain and flooding will still be possible.
Watches and warnings
Tropical Storm Warnings continue for coastal southeast Texas as well as in and around Houston.
Houston
Threat for Houston the rest of Tuesday is for strong wind gusts. Gusts of 60-70mph are possible as the core of the storm passes by. This could continue to cause power outages and minor damage.
The heavy rain and flooding threat has mostly ended for in and around Houston. Some passing showers or storms are possible, but nothing significant at this point.
Flooding and heavy rain threat
The flooding threat and heavy rain threat with Nicholas will now shift into southeastern Texas and southern Louisiana.
Rainfall totals of 4″ to 7″ are possible across most of southern Louisiana including around Baton Rouge and New Orleans.
It was not that long ago that Hurricane Ida devastated parts of Louisiana, and this rain and flooding will likely cause problems for the recovery efforts.
Highest rainfall totals of 7″ to 10″ with perhaps isolated totals of up to 20″ are possible for areas in southern Louisiana (south of I-10 to the coast).
Flash Flood Watch
Flash Flood Watches continue for southeastern Texas and have been added for most of southern Louisiana.
The immediate Houston area is no longer in a Flash Flood Watch.
A flash flood is caused by heavy or excessive rainfall that happens in a short period of time, generally over the course of less than 6 hours, according to the National Weather Service.
Share this news on your Fb,Twitter and Whatsapp
News Nation USA: Latest News Headlines
News Nation USA||USA News||Science||Education||Sports||World