Movie/TV News
X-Men's Team Of Monster Mutants Help Man-Thing Rescue A World On Fire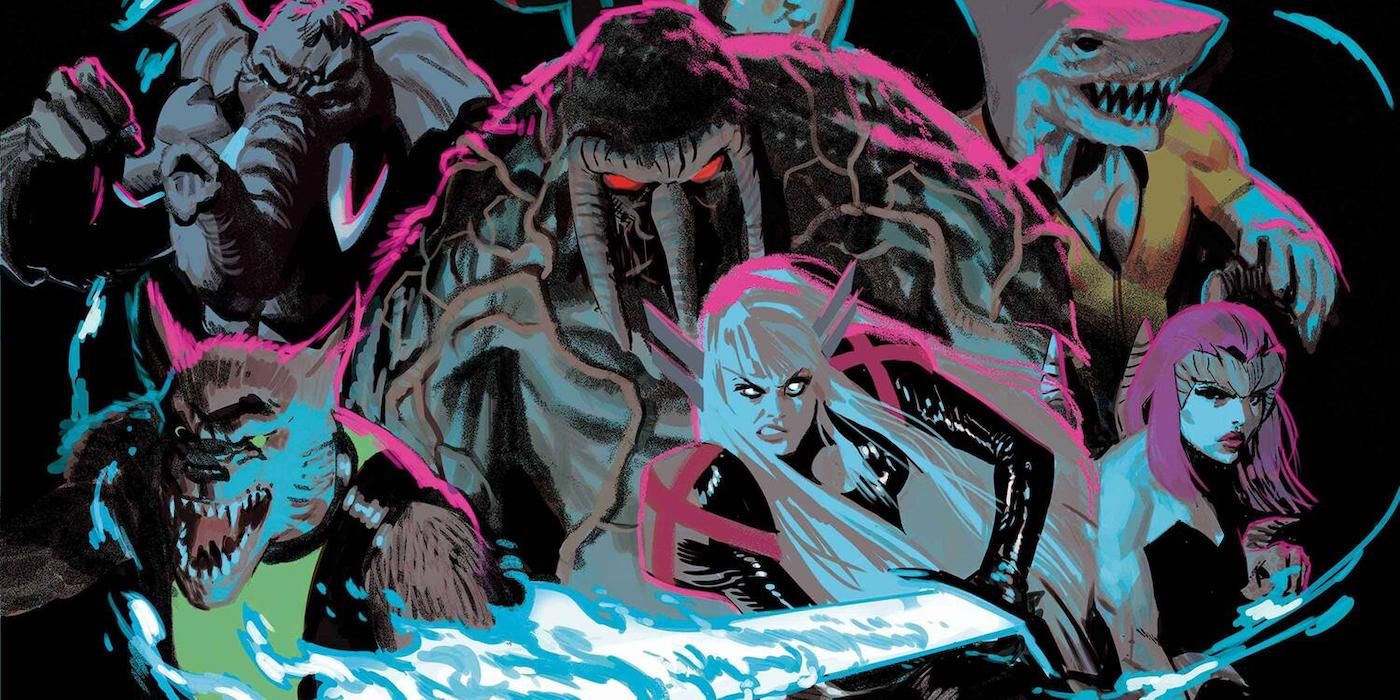 The X-Men's new team of monster mutants, the Dark Riders, team up with Man-Thing to take down a villain who wants to set all of humanity on fire.
A team of the X-Men's most monstrous mutants known as the Dark Riders are joining forces with Man-Thing to stop a villain who is attempting to use humanity's fear to burn the world. A new foe called Harrower has stolen Man-Thing's powers that allow him to burn anyone who feels fear. She has released a number of vegetal growths around the world that are burning up entire crowds of people, and it is up to a team of mutants from Krakoa led by Magik to put a stop to her plans in the upcoming X-Men: Curse of the Man-Thing #1.
Harrower was first introduced in Avengers: Curse of the Man-Thing #1 by writer Steve Orlando and artist Francesco Mobili. Her great-aunt is Augusta Bromes of Hordeculture, a team of elderly scientists who have recently run up against the X-Men. The women of Hordeculture hope to cull the human race in order to mitigate the harm that mankind has unleashed upon the planet, and return Earth to a more pristine and natural condition. Harrower seeks to completely eradicate all humanity. Hordeculture objects to her goal, as well as to the fact that she plans to use magic to achieve it, rather than science. Ignoring them, she attacks Man-Thing, destroys his body, takes his powers, and unleashes her fury upon the world. The Avengers scramble to stop the growths from burning up the whole planet, but even they cannot stop something as contagious as fear.
Continue scrolling to keep reading
Click the button below to start this article in quick view.
Related: Who is Man-Thing? Marvel's Version of Swamp Thing Explained
Marvel has released preview pages for the conclusion of the story, X-Men: Curse of the Man-Thing #1, written by Orlando with art by Andrea Broccadro. In addition to wrapping up the story, it will also include the debut of the Dark Riders, a team led by Magik that includes Marrow, Forearm, Shark-Girl, Wolf Cub, and Mammomax. The pages shows Magik teleporting the team into the Florida Everglades to help Man-Thing in his final showdown with Harrower. Check out the preview images below:
Curse of the Man-Thing celebrates the 50th anniversary of Man-Thing. After biochemist Dr. Ted Sallis crashed his car into a swamp while trying to recreate the Super-Soldier Serum that gave Captain America his powers, a combination of science and magic turned Sallis into Man-Thing. He is a living plant creature with a number of powers, including the ability to connect to people's emotions and burn anyone around him who feels fear. He serves as the guardian of an interdimensional portal known as the Nexus of All Realities, an attribute that Harrower exploits in her bid to kill all humans on Earth.
By the end of Avengers: Curse of the Man-Thing #1, Captain America is trapped inside Man-Thing's consciousness with the last remaining bit of Ted Sallis. He begs Sallis to use his knowledge of Man-Thing and the Super-Soldier Serum to fight back, but Sallis insists he can't because he did not actually create the serum. It remains to be seen how he will manage to retake control of Man-Thing's powers from Harrower, and how the Dark Riders will come into play. The story continues in Spider-Man: Curse of the Man-Thing by Orlando and artist Alberto Foche, on sale April 28. It then concludes in X-Men: Curse of the Man-Thing, on sale May 5.
Next: Spider-Man's Most Vicious Foe is the Key to Saving Man-Thing
Source: Marvel
PS5 Has Already Passed PS Vita, Wii U, & Dreamcast Lifetime Sales In UK
Share this news on your Fb,Twitter and Whatsapp