Movie/TV News
The Boys Cast & Jensen Ackles Hang Out While Filming Season 3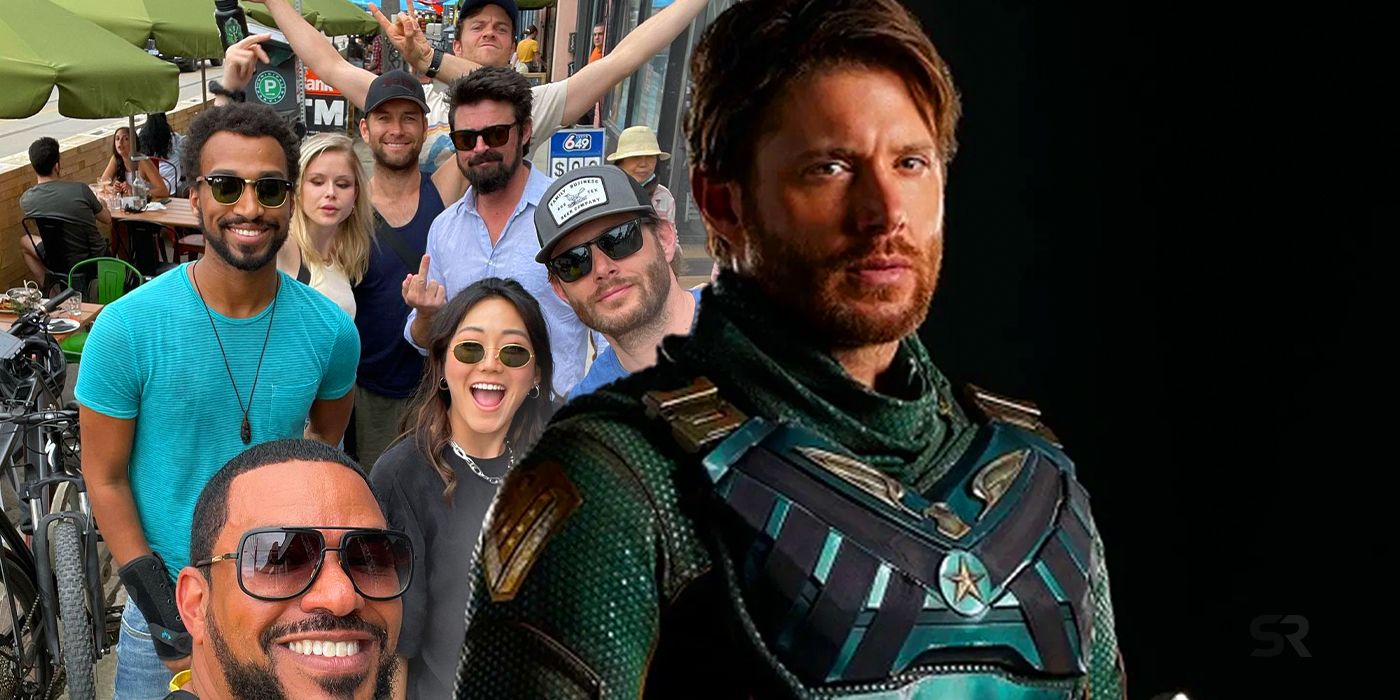 The Boys star Antony Starr shares a photo on Instagram of the cast hanging out with Jensen Ackles while filming the latest season of the hit series.
The Boys alum Antony Starr shares a photo on Instagram of Jensen Ackles hanging out with the cast while filming the latest season. Adapted from a comic book of the same name, the Amazon Prime series premiered in 2019 and quickly became a runaway hit. Viewers and critics celebrated the show for its ruthless and provocative writing, which deconstructed the superhero genre with a satirical eye. The Boys largely follows a group of disillusioned vigilantes working to dismantle Vought, an unscrupulous and violent corporation.
The first two seasons of The Boys introduced viewers to several characters from the comics, but season 3 will include Ackles as Soldier Boy. Soldier Boy has been mentioned a few times throughout the season but hasn't yet appeared on screen. The character fought in World War II and earned a reputation as a valiant and patriotic figure with superhuman abilities. As a result, he is considered the "first" superhero under Vought's leadership. In the comics, Soldier Boy was conceived as a tongue-in-cheek subversion of Marvel's Captain America. Currently, information regarding Ackles' character remains limited, but images of Ackles' Soldier Boy costume were recently released.
Continue scrolling to keep reading
Click the button below to start this article in quick view.
Related: The Boys Theory: Jensen Ackles' Soldier Boy Twist Copies An Old Horror Role
Now, Starr, who plays the infamous Homelander on The Boys, has shared an image on Instagram of Ackles bonding with his new cast members. Check out the photo below:
For many fans of Supernatural, Ackles' transition to The Boys has been a welcome surprise. After fifteen years on the air, the much-beloved horror series concluded its run at the end of 2020. Notably, Supernatural creator Eric Kripke also developed The Boys. Kripke was initially unsure if Ackles would be interested in the project, but thankfully the actor accepted. The show already boasts an impressive cast and the addition of Ackles can only benefit the series. Supernatural has a huge fan base and with Ackles playing a key role in The Boys season 3, Amazon could see a big uptick in viewers because of him appearing on the series.
There haven't been a ton of updates on The Boys season 3 filming schedule, but things seem to be going well based on the above image. The cast appears to have a good chemistry off set, which can only mean good things for season 3. The Boys season 3 is currently without a release date since filming hasn't even finished but fans welcome any type of update they can get. This image might not reveal any story details for the next season of The Boys, but hopefully, Amazon will start pumping out more marketing material soon.
More: The Boys: Homelander's Past Means He Deserves A Darth Vader Ending
Source: Antony Starr
90 Day Fiancé: Angela's Cutest Fashion Looks Since Weight Loss Surgery
About The Author
Share this news on your Fb,Twitter and Whatsapp
News Nation USA: Latest News Headlines
News Nation USA||USA News||Science||Education||Sports||World