Movie/TV News
The Batman Changes The Bat-Signal's Meaning (& Makes It Darker)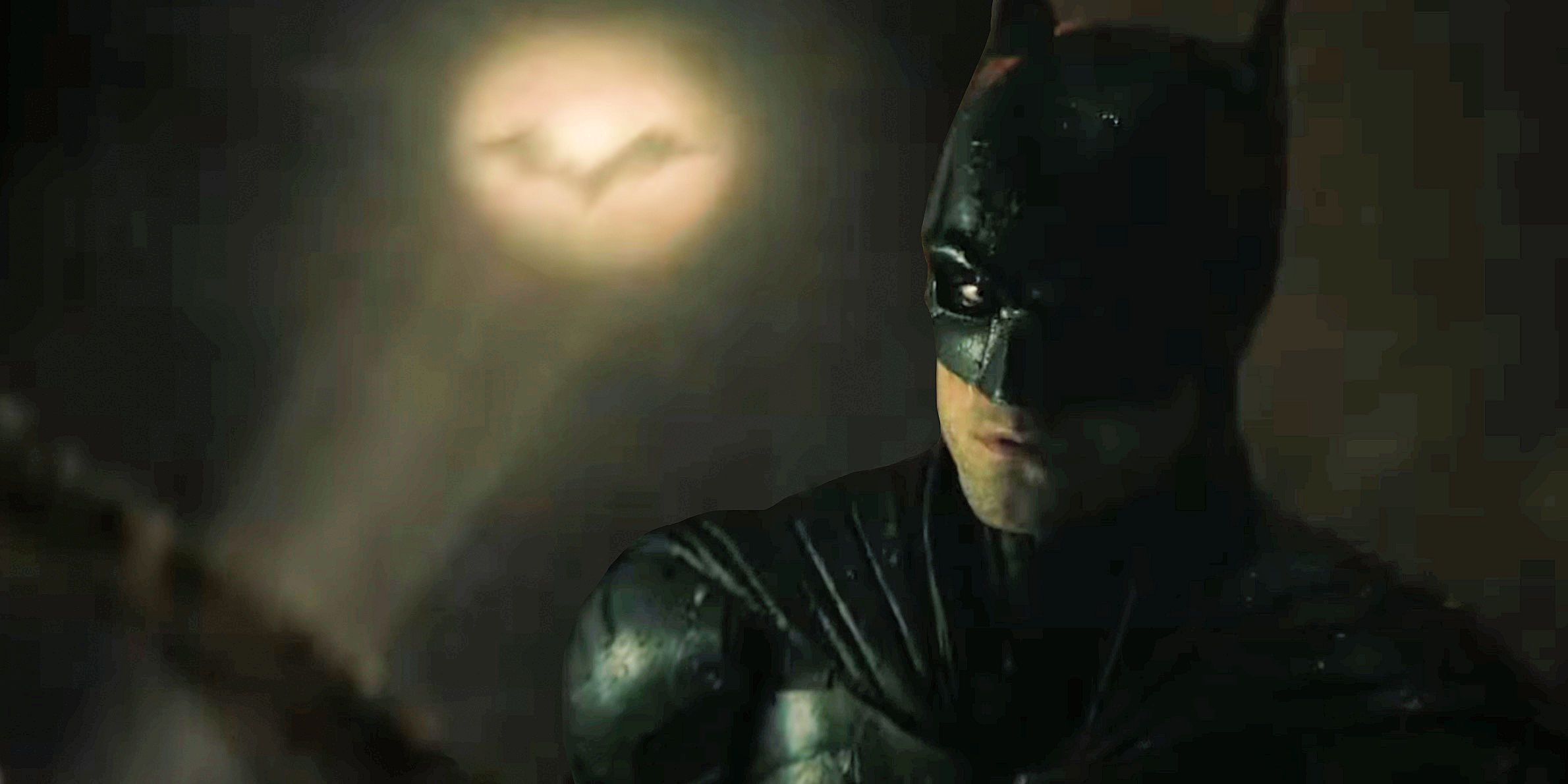 The new trailer for The Batman changes the meaning of the Bat-Signal, making it a much darker symbol during Bruce Wayne's early vigilante career.
In the second trailer for The Batman, the meaning behind the Bat-Signal is changed and made much darker during Bruce Wayne's early vigilante career. Starring Robert Pattinson as the titular Dark Knight and directed by Matt Reeves, The Batman will see Bruce Wayne in his second year as the Caped Crusader. Still a young man who has yet to refine or fully control his rage, the new trailer features a voiceover from Wayne talking about the Bat-Signal itself, giving it a darker connotation and meaning in contrast to the hope it inspires later on in Batman's tenure as Gotham's protector.
As revealed in the second trailer for The Batman released during DC's FanDome 2021, the new footage shows just how brutal Pattinson's Batman will be. Furthermore, it appears as though this early Wayne is much more focused on delivering vengeance as opposed to justice. This concept is not only proven by the Dark Knight's brutality facing a gang of clowns, but also in a voiceover where Bruce Wayne references the point of the Bat-Signal as the GCPD's Jim Gordon turns the iconic light on.
Related: The Batman Trailer #2 Breakdown: 37 Reveals & Easter Eggs
According to Pattinson's Dark Knight in the second trailer for The Batman, "Fear is a tool. When that light hits the sky, it's not just a call. It's a warning." In Bruce Wayne's mind, the Bat-Signal is meant to scare criminals and instill fear just as much as letting him know that he's needed. This tracks with the rest of the footage seen so far with Bruce being an agent of vengeance, even scaring Catwoman with his brutality in one scene. While vengeance is very much a part of who Batman is, it's always been balanced with a desire for true justice in a city that's full of darkness and corruption. However, it doesn't seem as though this early version of the Dark Knight has yet to achieve that balance, which is why the Bat-Signal in turn will largely exist as a symbol of fear, rather than one of hope as it is with versions of Batman who've been in the vigilante/superhero business for longer than Pattinson's.
It appears as though Bruce Wayne's evolution and growth into a hero has yet to come in The Batman, which is ultimately a good thing. Seeing him operating solely as a vengeful vigilante is a new kind of Batman on the big screen that should be very entertaining: a Batman unburdened by origins while not being fully developed either. As a result, it makes sense that the symbolism of the Bat-Signal would also not be fully realized (yet).
In any case, seeing such an iconic light in Gotham being viewed in such as dark manner is very dynamic. The change in meaning for the Bat-Signal is quite telling for the film's overall tone as well, featuring Robert Pattinson's grounded and gritty Batman determined to make his enemies fear him and going to extremely brutal lengths to do so. While Bruce Wayne has always been shrouded in darkness as Batman, framing the light of the Bat-Signal as an equally dark part of his arsenal will be pretty significant when The Batman releases in March of 2022.
Next: Is Joker In The Batman? Clown Gang Explained
The Batman (2022)Release date: Mar 04, 2022
DC League of Super-Pets (2022)Release date: May 20, 2022
Black Adam (2022)Release date: Jul 29, 2022
The Flash (2022)Release date: Nov 04, 2022
Aquaman and the Lost Kingdom (2022)Release date: Dec 16, 2022
Shazam! Fury of the Gods (2023)Release date: Jun 02, 2023
Avengers: Endgame Co-Director Comments On Reported MCU Return
About The Author
Share this news on your Fb,Twitter and Whatsapp
News Nation USA: Latest News Headlines
News Nation USA||USA News||Science||Education||Sports||World