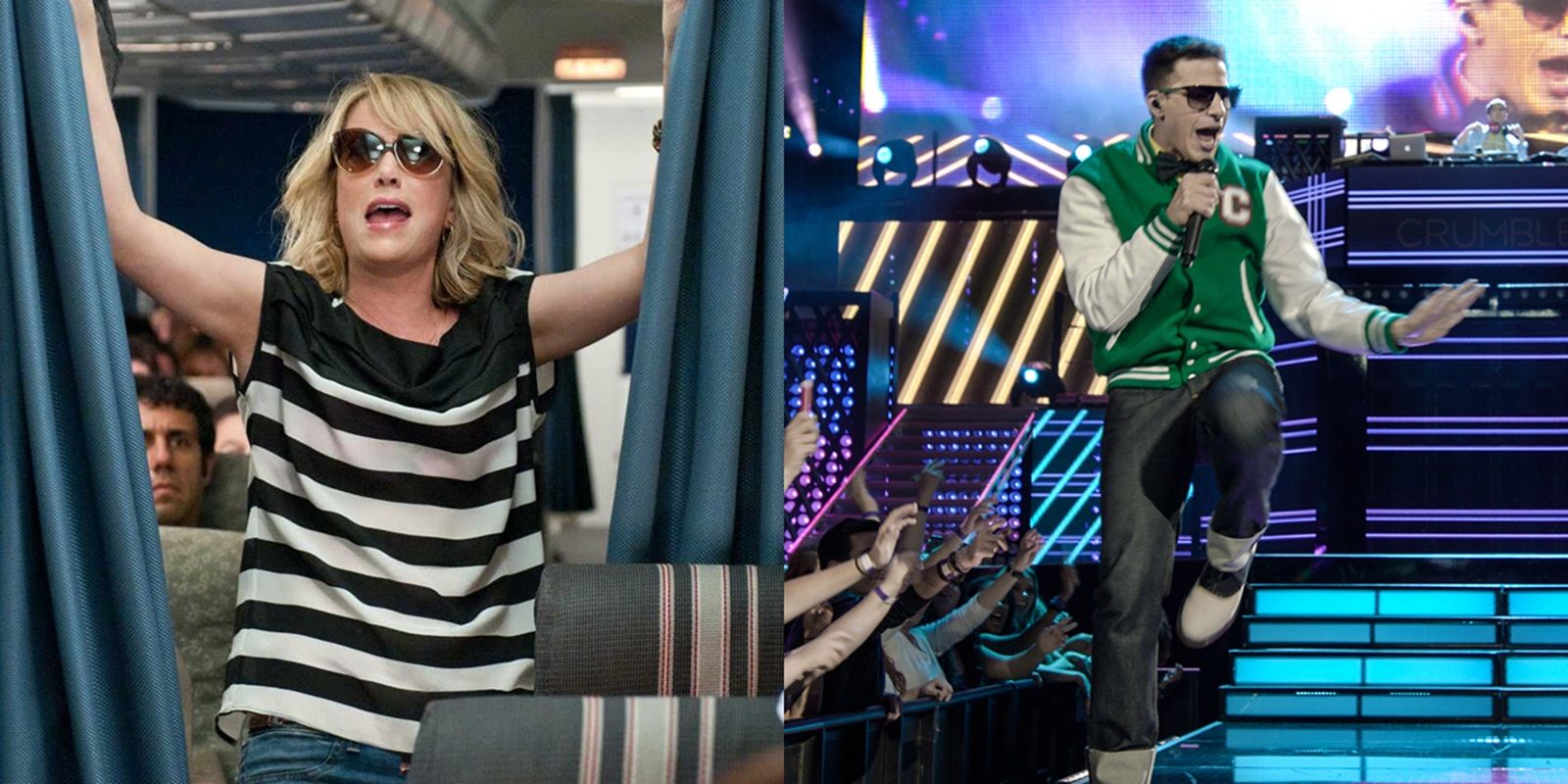 The 2010s saw a decline in the comedy movie genre, as audiences turned to superhero blockbusters like Deadpool and Guardians of the Galaxy for their big-screen laughs, and all the best comedy writers set up their sights on streaming series. But a couple of great comedies still managed to slip through the cracks.
RELATED: The 5 Best (& 5 Worst) 2010s Comedies
From Adam Sandler's Jack and Jill to Will Ferrell's Holmes & Watson, Saturday Night Live cast members were responsible for some of the worst comedies of the decade (the ones that contributed to the genre's decline). But, from Bridesmaids to Popstar, they were also responsible for some of the best (the ones that have kept the genre alive).
10

Anchorman 2: The Legend Continues (2013)
When Adam McKay and Will Ferrell left Saturday Night Live behind to bring their unique brand of absurdist comedy to the big screen, their calling card was Anchorman: The Legend of Ron Burgundy, which ended up becoming one of the most popular comedies ever made.
Almost a decade later, they reteamed for Anchorman 2: The Legend Continues. Like most comedy sequels, it pales in comparison to the classic original. But unlike most comedy sequels, it has a bunch of solid gags and the cast brings their A-game.
9

Wine Country (2019)
The cast of Amy Poehler's directorial debut Wine Country is basically a "who's who" of SNL talent: Rachel Dratch, Maya Rudolph, Tina Fey, Ana Gasteyer, Paula Pell, Emily Spivey.
Released on Netflix in 2019, Wine Country revolves around a group of long-time friends reuniting for a wine-soaked vacation in Napa Valley.
8

Sausage Party (2016)
Seth Rogen and Evan Goldberg assembled an all-star voice cast for Sausage Party, their hilariously crude R-rated take on a Pixar movie in which anthropomorphic food products await their salvation at the hands of a supermarket customer, only to discover that when they're taken to "the Great Beyond," they'll be cooked and eaten by giants.
In addition to Rogen/Goldberg regulars like Jonah Hill, Danny McBride, and Craig Robinson and A-listers like Salma Hayek and Edward Norton, the star-studded cast of Sausage Party includes SNL's Bill Hader and Kristen Wiig.
7

They Came Together (2014)
More than a decade after Amy Poehler and Paul Rudd teamed up with director David Wain to satirize summer camp movies in Wet Hot American Summer, the trio reunited to satirize romantic comedies in They Came Together.
The script isn't as tight as some of Wain's other movies, but it's a spot-on lampoon of romcom tropes, and Poehler and Rudd's chemistry is strong enough to carry the movie through its rough patches.
6

Horrible Bosses (2011)
The highest-grossing dark comedy of all time in unadjusted dollars, Seth Gordon's Horrible Bosses offers up a white-collar riff on Strangers on a Train as three buddies collude to murder each other's unbearable employers.
Jason Bateman stars alongside SNL's Jason Sudeikis and It's Always Sunny's Charlie Day as the lead trio. The movie is also filled with great supporting performances, particularly by Jamie Foxx and Jennifer Aniston.
5

Popstar: Never Stop Never Stopping (2016)
While This is Spinal Tap will always be the definitive music mockumentary, the Lonely Island's Popstar: Never Stop Never Stopping did a great job of updating the concept with a more modern doc style. It replaces "one of England's loudest bands" with a former boy band member trying to launch a solo career amidst bad blood and even worse reviews.
RELATED: The 5 Best (& 5 Worst) Mockumentaries
The movie is jam-packed with hysterical gags, from Seal fending off a pack of wolves to an off-camera battle with a swarm of bees, and A-list cameos ranging from Ringo Starr to Mariah Carey to Snoop Dogg.
4

Top Five (2014)
After his initial directorial efforts Head of State and I Think I Love My Wife offered a couple of memorable gags but ultimately failed to live up to their promise, Chris Rock emerged in 2014 with his first truly great movie, Top Five.
Rock stars as a world-famous comedian and movie star who's about to marry an A-list celebrity he doesn't really love in a highly publicized wedding ceremony. He gets doubtful about the wedding as he falls for the journalist profiling him (Rosario Dawson) and she highlights the emptiness of his fame-driven lifestyle. In addition to Rock, a bunch of other SNL alumni appear in the film, including Adam Sandler, Tracy Morgan, Jay Pharoah, J.B. Smoove, Leslie Jones, and Michael Che.
3

Booksmart (2019)
Olivia Wilde's Booksmart is one of the most refreshingly original comedies to come along in years. Unlike most recent comedies, Booksmart actually has an engaging plot driven by comedic situations and a huge cast of colorful, unforgettable characters who have to overcome conflicts and learn from their mistakes.
RELATED: Booksmart: 10 Reasons It's Way Better Than The Average High School Movie
Kaitlyn Dever and Beanie Feldstein anchor the movie with incredible on-screen chemistry that creates a tangible lifelong friendship between their characters. While the movie's most memorable supporting performance is given by Billie Lourd, SNL's Jason Sudeikis and Will Forte both give hilarious turns (and there's a great voice cameo by Maya Rudolph).
2

The Other Guys (2010)
Will Ferrell and his greatest deadpan foil Mark Wahlberg first teamed up for Adam McKay's The Other Guys, an absurdist gem that managed to satirize both buddy cop movies and financial crime simultaneously.
After two hotshot detectives played by Dwayne Johnson and Samuel L. Jackson go one death-defying stunt too far, a mild-mannered police accountant (Ferrell) and a beat cop who was suspended for shooting Derek Jeter (Wahlberg) have to step up to the plate and take down a Madoff-esque con artist targeting the police pension fund.
1

Bridesmaids (2011)
After being impressed with Kristen Wiig's brief appearance in Knocked Up, Judd Apatow asked her to develop a starring vehicle for herself, which became Bridesmaids. Wiig teamed up with Annie Mumolo to write a perfectly crafted script that was ultimately nominated for an Oscar, with finely tuned emotional beats, humor drawn from relatable situations as opposed to random gags, and plenty of room in each scene for the cast to improvise on the set.
The result, directed by Paul Feig, is one of the greatest comedies ever made. Wiig co-stars with SNL cohort Maya Rudolph in an ensemble rounded out by Rose Byrne, Ellie Kemper, Wendi McLendon-Covey, and an Oscar-nominated Melissa McCarthy in her breakout role as Megan.
NEXT: SNL: 10 Best '90s Comedies Starring Cast Members

Next
Thor: Love And Thunder — 10 Ways It Could Drastically Change The MCU

About The Author
Share this news on your Fb,Twitter and Whatsapp
News Nation USA: Latest News Headlines
News Nation USA||USA News||Science||Education||Sports||World