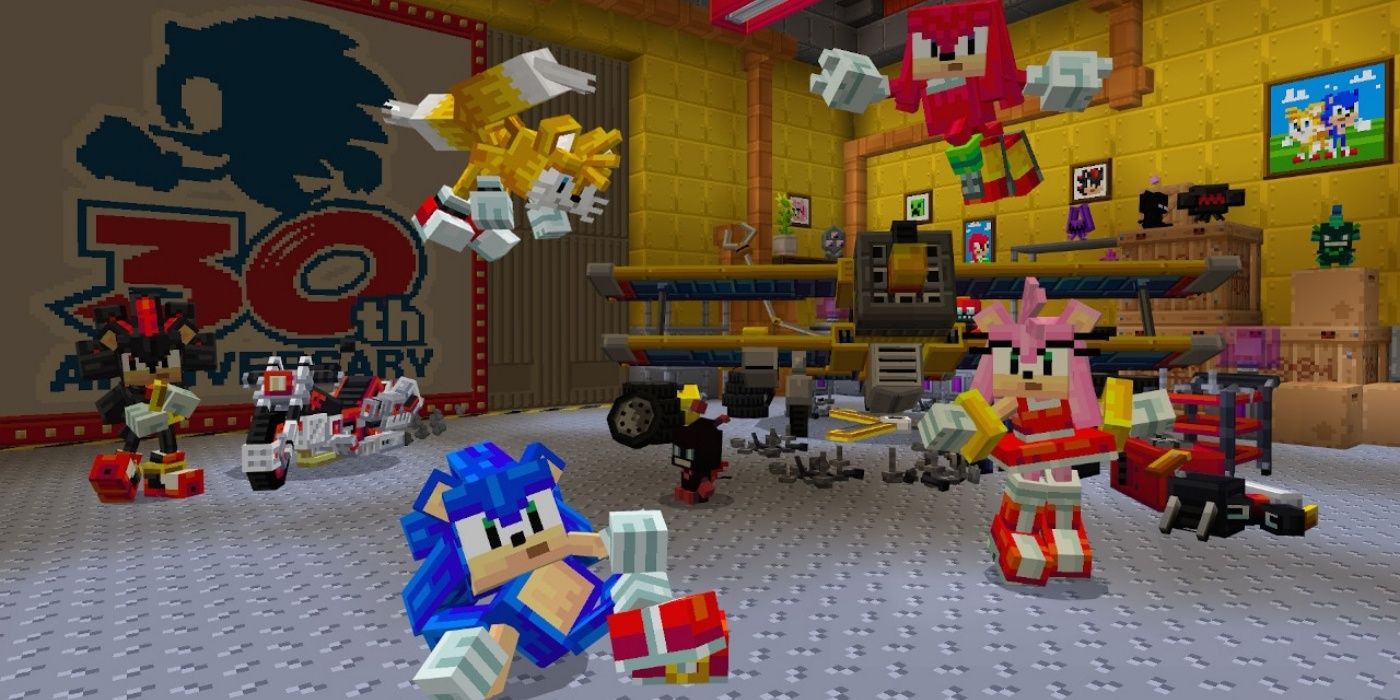 In celebration of Sonic the Hedgehog's 30th anniversary, Sega and Mojang teamed up to produce Sonic x Minecraft downloadable content.
To honor Sonic the Hedgehog's 30th anniversary, Sega and Mojang joined each other in making way for the previously teased Sonic x Minecraft DLC pack. Sega kickstarted the ongoing celebrations in late May by hosting a Sonic 30th anniversary stream dedicated to new announcements regarding the franchise.
One such reveal officially confirmed the release of Sonic Colors: Ultimate, a remaster for the Wii and Nintendo DS exclusive Sonic Colors. Sega's celebratory Sonic Central broadcast also unleashed new details about Olympic Games Tokyo 2020 – The Official Video Game, namely that players will get to dress their Olympic avatars like Sonic. Viewers additionally received cursory information about the 2022 roll out of Sonic Origins, a collection packed with several of the beloved brand's classic adventures. Of course, the most significant announcement involved CG footage of a brand-new Sonic the Hedgehog game, but a quick tease for Sonic's Minecraft collaboration absorbed some of the spotlight, as well.
Related: Sonic the Hedgehog Ran So Fast it Permanently Changed His Appearance
A blog post on Minecraft.net has officially confirmed the Sonic x Minecraft mashup pack. The DLC is available now through the Minecraft Marketplace, though it's billed a celebration of Sonic the Hedgehog's 30th anniversary, which lands tomorrow, June 23. Upon accessing the content, Sonic faithful will find themselves dropped into a 3D runner replete with blocky rings to collect, iconic locales to navigate, and familiar characters to meet such as Knuckles and Tails. Better yet, all players can download a free Sonic-specific Character Creator item in the Minecraft Marketplace. Get a look at the Sonic x Minecraft DLC in following trailer:
This DLC seems yet another great way to honor the groundbreaking franchise's 30th anniversary. Plus, Sonic himself fits surprisingly well in the Minecraft aesthetic. The overt blockiness doesn't look half bad on the speedy hedgehog.
Of course, the Sonic-centric celebrations are not over just yet. The previously mentioned Sonic Colors: Ultimate sprints onto PC and consoles later this year on September 7, for example. And 2022 could go down as even more of an incredible year for the long-running franchise, thanks to the launch of both Sonic Origins and the new Sonic game. Spring 2022 will also see Sonic the Hedgehog return to theaters with an eagerly-anticipated sequel to the 2020 film.
Next: Sonic The Hedgehog Google Search Easter Egg: How To Find & Unlock Super Sonic
Minecraft is available on Nintendo, PC, PlayStation, Xbox, Android, and iOS platforms.
Source: Minecraft.net, Minecraft/YouTube
James Gunn Jokes About Superman Reference In Suicide Squad 2 Trailer
About The Author
Share this news on your Fb,Twitter and Whatsapp
News Nation USA: Latest News Headlines
News Nation USA||USA News||Science||Education||Sports||World