Movie/TV News
KUWTK: Kourtney's BFF Addison Rae Probed By the Family As Fans Cringe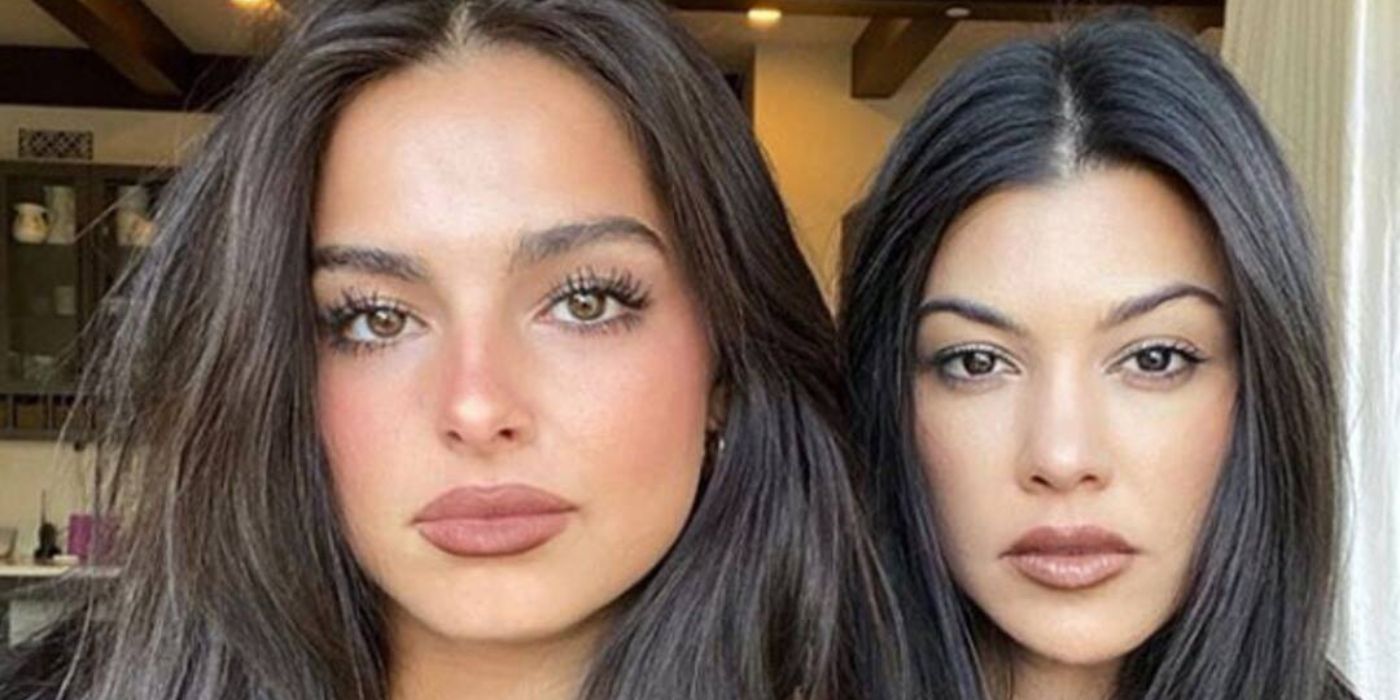 In tonight's new episode, the Kardashians invite Addison Rae to lunch without Kourtney to interrogate her. Fans say it's uncomfortable to watch.

Kourtney Kardashian's family is questioning her new friendship with TikTok star Addison Rae in a cringe-worthy clip from tonight's new episode of Keeping Up With the Kardashians. In the episode, Kourtney invites Addison to the family's Malibu house for a sleepover. Her sisters, Kim, Khloe, and Kendall along with her mom Kris invite Addison to have lunch with them during which they interrogate Addison, not only about herself, but about her friendship with Kourtney.
For the final season of Keeping Up With the Kardashians, the family rented out a house in Malibu to stay at while filming the show. The siblings were able to come and go as they pleased with both their kids and their significant others. Many of them even invited some friends over for a night or two, one of which was Addison. Kourtney and Addison first met through Mason Disick's love of TikTok. Despite their large age gap, Kourtney and Addison hit it off and became instant best friends. Since they began hanging out together, Kourtney and Addison's friendship has received much criticism due to their 20-year age gap.
Continue scrolling to keep reading
Click the button below to start this article in quick view.
Related: KUWTK: Kris Jenner Goes All Out For Family Golf Outing On Easter
In typical Kardashian fashion, any of the siblings' new friends must be interrogated before being accepted into the family. A cringe-worthy sneak peek from the upcoming episode of KUWTK (seen below) shows the family questioning Addison. Like fans, the family was skeptical of Kourtney's new friendship with Addison, mainly because of their age difference. They were also shocked to see how happy Kourtney was around Addison. Kris, Kim, and Khloe decided to invite Addison to lunch while she was staying at the Malibu house; however, they did not invite Kourtney. Kourtney's family was not afraid to ask Addison any and all questions they may have had for her. From where she was from to if she and Kourtney were hooking up, Kim and Khloe did not hold back.
Scott Disick, Corey Gamble and Kendall Jenner also took part in the lunch; however, they stayed quiet for the most part. In fact, Kendall looked to be just as uncomfortable from the constant questioning as fans were watching it. Many could not imagine how intimidating it must be to be interrogated by the Kardashian family. One comment on the video called out the family for "low-key shading her." Another described the scene as being hard to watch because of how awkward the conversation was.
Fans are calling it hypocritical of the family to attack Kourtney for her friendship with someone younger than her when Scott is constantly dating girls around the same age range as Addison. The family tends to allow Scott to date whoever he would like despite their age difference without batting an eye. The only difference is that it is common for Scott to date younger women while Kourtney's new friendship is out of her norm. Prior to this interrogation, Kim and Khloe had questioned Kourtney's oldest son Mason regarding her sleepover with Addison. The cringe-worthy lunch will be seen on tonight's new episode of Keeping Up With the Kardashians.
Next: KUWTK: Fans Shocked As Kardashian PR Team Pulls Online Content
Source: Keeping Up With the Kardashians
All 7 Of Adam Sandler's Movie Cameos Explained
About The Author
Share this news on your Fb,Twitter and Whatsapp