Movie/TV News
How Sebastian Stan & Anthony Mackie Improved Endgame's Final Captain America Moment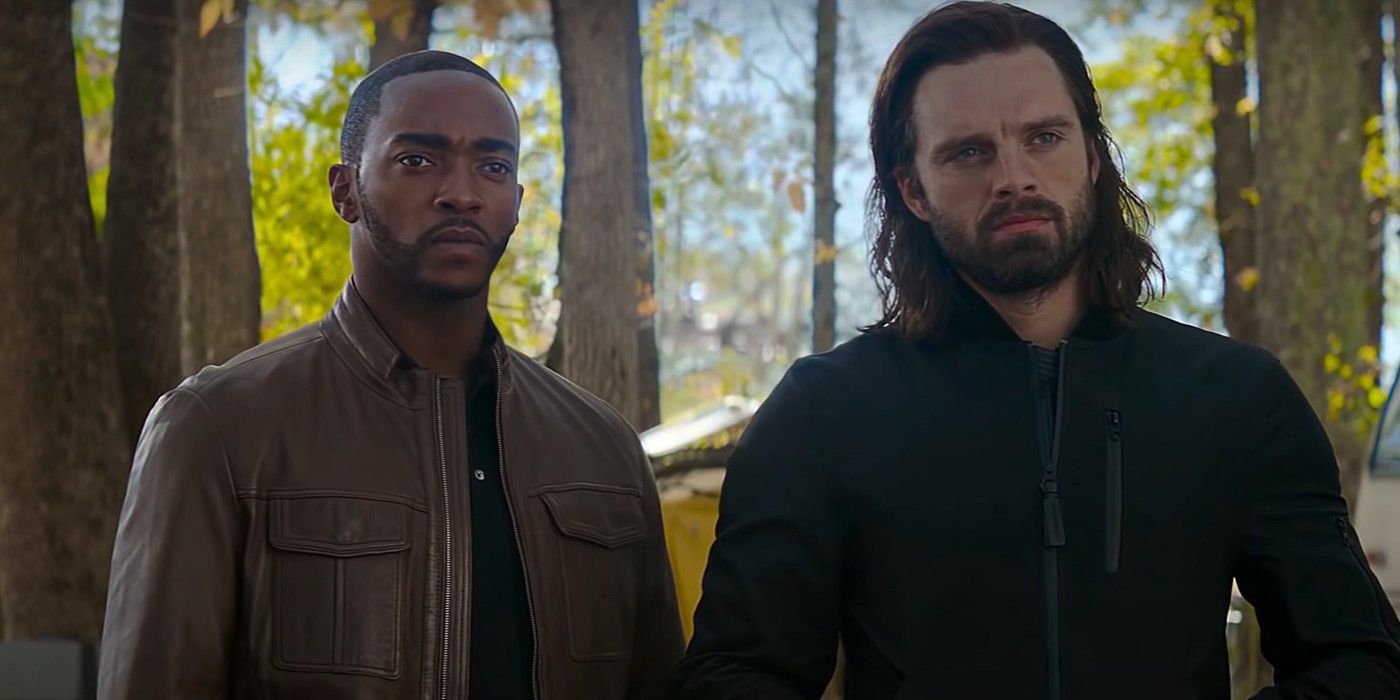 Kevin Feige explains how Avengers: Endgame stars Anthony Mackie and Sebastian Stan contributed to the movie's final Captain America scene.
Kevin Feige explains how Avengers: Endgame stars Anthony Mackie and Sebastian Stan contributed to the movie's final Captain America scene. Mackie and Stan have been vital supporting players throughout their time in the MCU, with both of them debuting within the Captain America franchise. Stan arrived first as Bucky Barnes, Steve Rogers' (Chris Evans) childhood friend who becomes the trained assassin the Winter Soldier. Mackie, meanwhile, plays former Air Force pararescue Sam Wilson, aka Falcon. Bucky and Sam have been major parts of Steve's MCU journey, but with Disney+ series The Falcon and the Winter Soldier (which arrives next week), they will step into the spotlight.
Continue scrolling to keep reading
Click the button below to start this article in quick view.
When fans last saw Stan and Mackie in the MCU, they were saying goodbye to an elderly Steve in Endgame's final moments. In the film, thanks to the Avengers' discovery of time travel, Steve opts to return to the past to live out his dream life with Peggy Carter (Hayley Atwell). He reappears in the present as an old man, much to Bucky and Sam's surprise. What follows is a poignant moment between Sam and Steve, as the latter passes on the Captain America shield.
Related: Endgame Was The Perfect End To Steve Rogers' Arc (Not Captain America's)
According to Marvel boss Kevin Feige, some of what played out onscreen in Avengers: Endgame wasn't in the script. While speaking to Variety, Feige explained it was actually Mackie and Stan who came up with the bench scene's blocking. It was originally planned that Sam would be the only one of the two to approach Steve, but the actors changed that. Feige revealed:
It was actually Mackie and Sebastian that came up with the blocking for the scene by the bench at the end of "Endgame." They walk up to Steve Rogers together. As it was scripted, only Sam noticed this older gentleman sitting on a bench. They came up with this notion that they start to walk together, and then Sam steps forward. Even the notion of him holding the shield and saying, "it feels like it belongs to somebody else."
Some fans took issue with Bucky not getting the chance to properly speak to Steve, but the moment that's seen in Avengers: Endgame is still very impactful. By having Sam and Bucky walk closer to the bench together, Mackie and Stan sent a message that, underneath everything, they're still two men who are tied together by Steve. They're both affected by Steve's decision to step down as Captain America, and while Sam is the one who has the final words with him, Bucky is still a part of the moment. Stan and Mackie made a subtle, but sweet adjustment that holds plenty of meaning.
That loss will presumably play a part in The Falcon and the Winter Soldier, which will take place in the aftermath of Endgame. Sam will be seen grappling with the Captain America mantle, while Bucky is stuck trying to find his place in a world where he no longer has to be a controlled weapon. Both characters are in a very interesting position, and it'll be quite exciting to see where they go next. As shown with the Avengers: Endgame anecdote, Mackie and Stan work really well together. Now it's just up to their fictional counterparts to do the same.
More: Why Bucky Might Resent Falcon Being The New Captain America (Despite Endgame)
Source: Variety
Black Widow (2021)Release date: May 07, 2021
Shang-Chi and the Legend of the Ten Rings (2021)Release date: Jul 09, 2021
Eternals (2021)Release date: Nov 05, 2021
Spider-Man: No Way Home (2021)Release date: Dec 17, 2021
Doctor Strange in the Multiverse of Madness (2022)Release date: Mar 25, 2022
Thor: Love and Thunder (2022)Release date: May 06, 2022
Black Panther 2 (2022)Release date: Jul 08, 2022
Captain Marvel 2 (2022)Release date: Nov 11, 2022
Powerpuff Girls Live-Action Bubbles Star Has Wanted The Role For 8 Years
About The Author
Share this news on your Fb,Twitter and Whatsapp