Movie/TV News
How Every Star Wars Rebels Character Can Return In Live-Action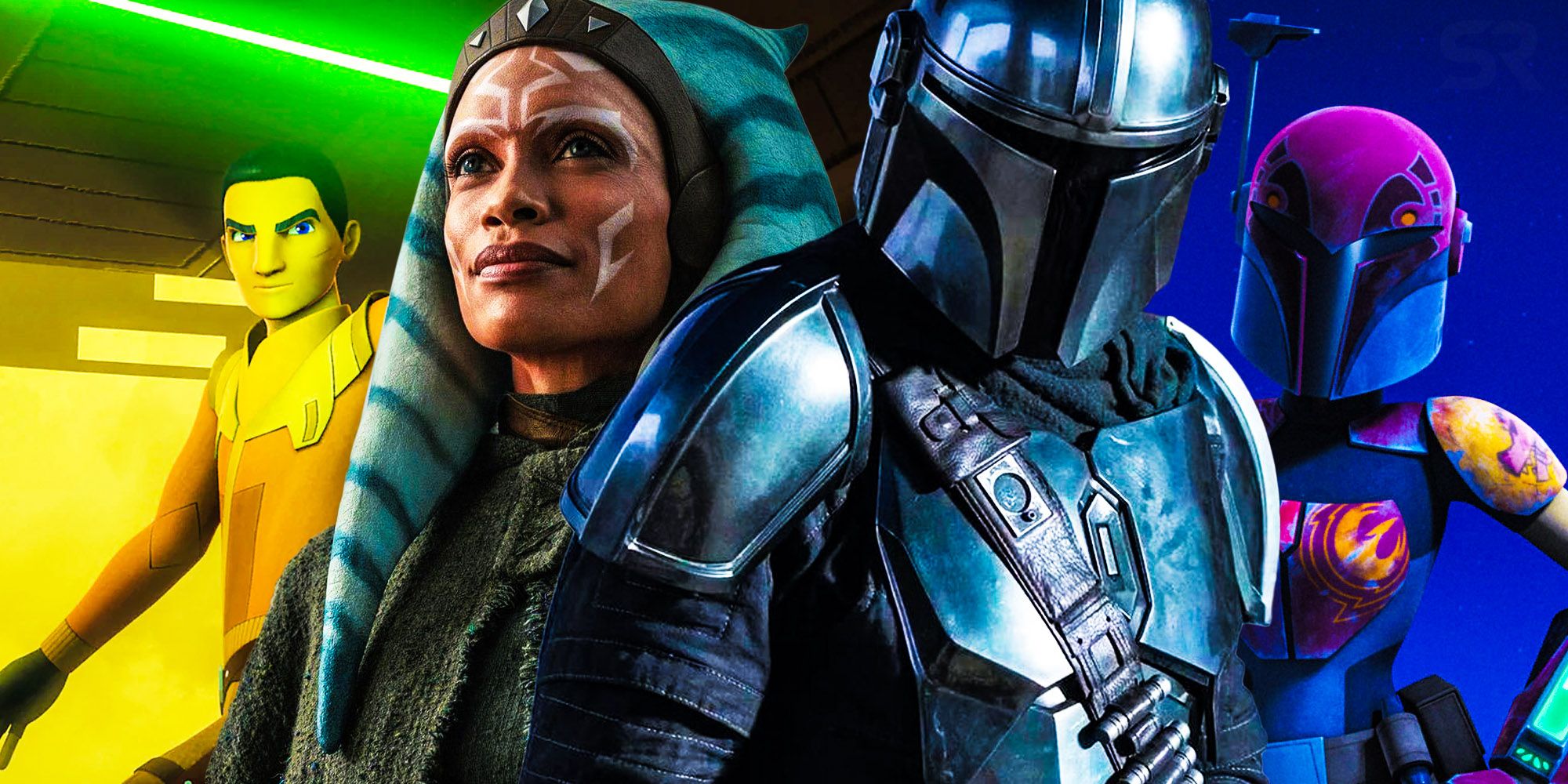 The Disney+ era of Star Wars has brought several prominent animated characters to live-action, like Ahsoka Tano and Bo-Katan Kryze, opening the door for more Star Wars Rebels characters to return in the future as well. The Mandalorian has already teased a few such future cameos, and there are lots of opportunities in other upcoming Star Wars projects to bring the whole Ghost crew to live-action. And yes, that even includes the ones who are dead.
Where The Clone Wars largely featured characters who'd already appeared in the Star Wars movies (with some notable exceptions), Rebels' ensemble was almost entirely filled with brand-new characters. New faces like Ezra Bridger, Sabine Wren, and Kanan Jarrus quickly became major players in Star Wars canon. The success of Rebels is due largely to the family-esque dynamic between the Spectres, which gave the structure of the show a very different feel from the anthology format of Star Wars: The Clone Wars.
Continue scrolling to keep reading
Click the button below to start this article in quick view.
Related: Casting Star Wars Rebels Characters For Ahsoka's Disney+ Show
Ever since Star Wars Rebels ended, and especially since Ahsoka and Bo-Katan were brought to live-action, there's been speculation about who else could return to the franchise, and how. Disney is now actively developing new shows and movies in multiple different Star Wars eras, which means there are lots of different ways the Ghost crew could be brought back. Here's the most likely way each Star Wars: Rebels character could be brought to live-action.
How Ezra Bridger Can Return In Live-Action
Though he hasn't been directly invoked in any live-action Star Wars media, Ezra Bridger has been heavily teased in The Mandalorian. Ahsoka's return in season 2 centered on her quest for Grand Admiral Thrawn, a character who was last seen being sucked through hyperspace into the Unknown Regions along with Ezra Bridger. The end of Rebels also confirms that Ahsoka went searching for Ezra after the end of the Galactic Civil War.
All of those clues point in one direction – Ezra Bridger will appear in the upcoming live-action Ahsoka show. It's likely that Ahsoka is really looking for Ezra in The Mandalorian season 2, and that Thrawn is simply her best chance of finding him. As one of the few Jedi remaining in the galaxy, Ezra could playa huge role in the future of the franchise. And since neither he nor Ahsoka appear in the sequel trilogy, Disney could do any number of things with the pair after the events of The Mandalorian.
How Hera Syndulla Can Return In Live-Action
As one of the Rebel Alliance's most skilled pilots and inspiring leaders, Hera Syndulla deserves a return in live-action. Though she survives the entire war against the Empire (and since the Ghost appears in The Rise of Skywalker during the Battle of Exegol), she could appear in the post-original trilogy era. The best bet for such a cameo would be in the upcoming Andor series starring Rogue One's Cassian Andor, starring Diego Luna.
Related: Star Wars Characters Who Could Return In Rogue Squadron
However, it might make more sense for Hera to make the jump to live-action in Patty Jenkins' Rogue Squadron film. It's unknown at this time whether the movie will take place during or after the original trilogy, but either one could work for a Hera cameo. Not only did she participate directly in some of the rebellion's most daring space missions, but she also trained pilots during the war. That means that most members of Rogue Squadron would know Hera well. Making her a leader in the Rogue Squadron movie could be a perfect way to bring Hera to live-action. And of course, it would probably mean the return of Chopper as well.
How Kanan Jarrus Can Return In Live-Action
Yes, it's true that Kanan Jarrus dies near the end of Star Wars Rebels. He doesn't live to meet Luke Skywalker, or see the fall of the Empire, or help build the New Republic. That limits the possibilities for him to come back in live-action. However, there is one Star Wars project that could be perfect for a Kanan cameo – the Obi-Wan Kenobi Disney+ series.
Even though Kanan never really knew Obi-Wan, there are ways he could feature in the upcoming show. Clone Wars flashbacks might be the easiest way, as it would allow for Kanan to be recast with a young actor (meaning he would still be going by the name Caleb Dume). He and Obi-Wan could also cross paths in one way or another during the present-day of the show, which is set 1o years after Order 66. Perhaps Obi-Wan helps a young Kanan in secret. Perhaps he just doesn't tell him his name. There are many ways to make a Kanan cameo work, and while original voice actor Freddie Prinze Jr. may be too old to play a young version of the character, Disney could certainly figure something out. Depending on the exact timeline of Andor, it's always possible he could show up there as well.
How Grand Admiral Thrawn Can Return In Live-Action
Out of all the Star Wars Rebels characters yet to appear in live-action, Thrawn is the most likely to make the jump. The reason is simple – The Mandalorian season 2 invoked him by name, promising a glorious return in the near future. Fans have already started debating possible casting choices, which have included everyone from Jon Hamm and Pierce Brosnan to Benedict Cumberbatch and original voice actor Lars Mikkelsen.
Related: Casting Grand Admiral Thrawn For The Mandalorian Season 3
Because Ahsoka is hunting Thrawn in The Mandalorian, it seems most likely that he'll appear in her spinoff show. However, it's also possible Thrawn could become the main villain of The Mandalorian season 3 as well. Bringing back Thrawn gives Star Wars a new villain for the post-Imperial era who could remain a major threat in the franchise for years to come. It should be exciting when the Grand Admiral finally makes the jump to live-action.
How Zeb Orrelios Can Return In Live-Action
While not one of Star Wars Rebels' most important characters, Zeb is nonetheless a core member of the Spectres and a valued asset of the Rebellion. For those reasons, and because he doesn't remain in the New Republic military after the Empire's fall, Zeb's best chances at a live-action cameo are Obi-Wan Kenobi and Rogue Squadron. He could also appear as an agent of the rebellion in Andor. Because Zeb was never the narrative center of Rebels, it's unlikely that he'd have too big of a role in any future Star Wars projects. Still, it would be fun to get a glimpse of the big guy in live-action.
How Captain Rex Can Return In Live-Action
A fan-favorite since his debut in The Clone Wars, Captain Rex could easily make a live-action cameo sometime in the near future. Now that original Jango Fett actor Temuera Morrison is back with the franchise, he could play an old-man version of Rex in any number of upcoming Star Wars projects. Right now, Obi-Wan Kenobi and Andor seem like the most likely picks.
How Sabine Wren Can Return In Live-Action
Perhaps Star Wars Rebels' most beloved character, Sabine was rumored to appear in The Mandalorian season 2. Though that didn't turn out to be true, she's still a likely addition for season 3, especially since the story will focus more on Din Djarin's relationship with Mandalore, other Mandalorians like Bo-Katan, and his possession of the Darksaber. She's a fan favorite and one of the key surviving Mandalorians, and she could bring a lot to the story of season 3.
Related: Rex's Bad Batch Return Can Explain What Happened To Cody After Order 66
It's also possible (if not likely) Sabine will instead appear in the Ahsoka show first. The final scene of Rebels shows her joining Ahsoka in the hunt for Ezra Bridger, which could take her far away from Din Djarin. Either way, it should be exciting when Sabine finally makes the jump from Star Wars Rebels to the world of live-action.
More: Everything We Know About Disney+'s Ahsoka TV Show
Why Batwoman Is Replacing Kate Kane Instead Of Recasting Ruby Rose
About The Author
Share this news on your Fb,Twitter and Whatsapp
News Nation USA: Latest News Headlines
News Nation USA||USA News||Science||Education||Sports||World