Movie/TV News
Emily Blunt's 15 Best Movies (According To Rotten Tomatoes)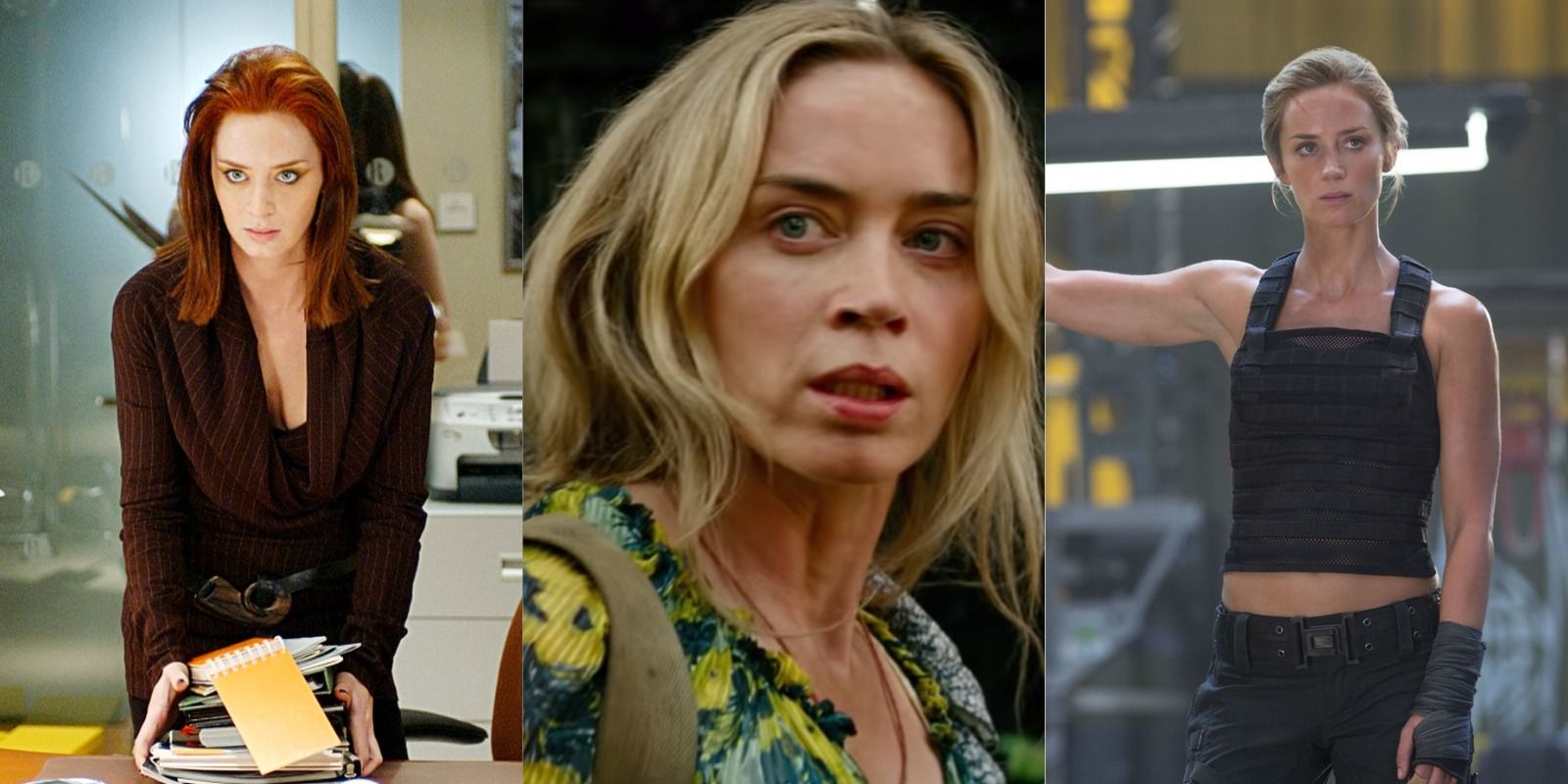 If someone went back in time to 2006 and told someone who'd just seen The Devil Wears Prada that Miranda Priestly's arrogant co-assistant would be one of the most beloved movie stars in just a few short years, they'd think that person was crazy. 
RELATED: The 10 Best Characters In Jungle Cruise
Thankfully, Blunt has been given plenty of chances to show her range since then: as a moralist FBI agent, a pregnant mother in a post-apocalyptic world, even Mary Poppins. Emily Blunt has an insane amount of variety in her filmography, swapping from horror films to fun adventures like her most recent film, Jungle Cruise.
Updated on July 31st, 2021 by Melody MacReady: As time goes by, sometimes the ratings of a film can shift higher or lower which happens to be the case for some of Emily Blunt's many films. Also, with so many films in her filmography since the early 2000s, showcasing ten would simply not be enough seeing how Emily Blunt has appeared or starred in many films that are now considered classics. Even in her smaller roles, Emily Blunt shows that she is a powerhouse of an actress that rivals the likes of Meryl Streep; even in the less beloved films, she manages to be one of the stronger elements.
15

Into The Woods (2014) – 71%
● Available on Disney+
Emily Blunt was one of many famous faces in this live-action musical from Disney. She reunites with Meryl Streep and joins James Corden, Anna Kendrick, Johnny Depp, and more in a story about a woman and her husband trying to break the curse of a witch.
Into The Woods is directed by Rob Marshall, who is no stranger to musicals: he directed the film adaptation of Chicago then reunited with Emily Blunt for Mary Poppins Returns, so the pedigree is top-notch. This translated to positive reviews and even three Oscar nominations, including one for Streep's performance. Blunt was also nominated alongside Streep at the Golden Globes for her performance in the movie.
14

Sunshine Cleaning (2008) – 74%
● Available on HBO Max
Starring Amy Adams, Sunshine Cleaning tells the story of a woman who starts a biohazard removal service to pay for her son's tuition. Emily Blunt plays the woman's unreliable sister and business partner, leading to a lot of hijinks and family drama.
This one is often forgotten since it was a small independent drama with a limited release in theaters. Sunshine Cleaning did get nominated for several awards and won two with both actresses earning much praise for their realistic portrayal of dysfunctional sisters.
13

The Devil Wears Prada (2006) – 75%
● Available on Starz
For most of the world, this is where Emily Blunt made her first big splash as the antagonistic assistant Emily. Though Meryl Streep's Miranda Priestly is the main villain, Emily was still as much of a problem for Anne Hathaway's Andy Sachs.
Despite not being the main focus of The Devil Wears Prada, Emily Blunt still showed off her acting talents and since then, she has appeared in over thirty different projects with different tones, genres, and styles.
12

The Young Victoria (2009) – 76%
● Available on Starz
In this historic dramatization, Emily Blunt plays Queen Victoria charting her romance with King Albert and her first years of rule. This was Emily Blunt's first big showcase of dramatic lead, leading to a career of many award nominations.
Emily Blunt portrays a young woman in a stressful situation rather well which is often the most praised aspect of The Young Victoria. Many critics and audiences agreed that the film wouldn't have worked as well without Emily Blunt's acting talent.
11

Mary Poppins Returns (2018) – 80%
● Available on Disney+
Disney's sequel to Mary Poppins had a very similar premise to Star Wars: The Force Awakens, as it used the iconography and old stars of its franchise to incite nostalgia in its audience, but it also told its own story and brought in new characters.
RELATED: 5 Best Original Mary Poppins Songs (& 5 Best From Mary Poppins Returns)
Emily Blunt stars as the title character in a turn that almost lives up to the original, while Emily Mortimer and famous songwriter Lin-Manuel Miranda provide strong support. Along with some strong songs and life lessons, Mary Poppins Returns was a sequel that nobody really asked for but that many were pleasantly surprised by.
10

Charlie Wilson's War (2007) – 82%
● Available on Starz
Emily Blunt only has a minor role in this satirical political drama, but she's still memorable in it. Tom Hanks stars as the titular character, a Congressman who has an irresponsible and philandering side, which Blunt's character is a part of. But over the course of the film, he intervenes in the Soviet-Afghan War after witnessing the atrocities going on there.
There's an incredible team behind the film, with the great Mike Nichols directing what would be his final film, Aaron Sorkin providing a typically sharp screenplay, and a central trio of Hanks, Julia Roberts, and Philip Seymour Hoffman all bringing their A-game.
9

Your Sister's Sister (2011) – 83%
● Available on Showtime
Helmed by Lynn Shelton, who most recently delivered the delightful, character-focused comedy Sword of Trust, Your Sister's Sister finds palpable humanity in a blend of comedy and drama. The plot follows a man struggling with the death of his brother when his brother's ex-girlfriend invites him to her family's island getaway to help him process his emotions, and there, he becomes entangled in a strange romantic mixup with both her and her visiting sister.
The three characters each reveal fascinating truths about themselves over the course of the vacation. It's a cabin-fever story, where instead of killing each other, the characters just get to know each other better and find more common ground.
8

The Wind Rises (2013) – 88%
● Available on HBO Max
Studio Ghibli is one of the finest animation houses in the world, regularly turning out anime that provokes all kinds of emotions. The studio has proven to be so popular around the world that it can attract A-list Hollywood names to provide their voices for the English dubs of their films.
The English dub of their delightful animated biopic of WWII plane designer Jiro Horikoshi, The Wind Rises, for example, stars real-life couple Emily Blunt and John Krasinski, Joseph Gordon-Levitt, Martin Short, and William H. Macy. Blunt took the role of Nahoko Satomi, which was played by Miori Takimoto in the Japanese original.
7

My Summer of Love (2004) – 90%
● Available on Prime Video
This British drama was actually the first-ever theatrically released movie to feature Emily Blunt. She plays an upper-middle-class woman who develops a romantic relationship with a working-class woman, while her freshly-released-from-prison brother, who became a born-again Christian while he was behind bars, gets in the way.
There's a lot going on in the character-driven narrative, with the focus always on the theme of the human need to feel loved and the director, Pawel Pawlikowski, deftly balances the bittersweet tone of the film.
6

Edge of Tomorrow (2014) – 91%
● Available for purchase on Prime Video 
Blunt stars opposite Tom Cruise in this exhilarating blend of alien invasion action and mind-bending time travel fun that equal parts Independence Day and Groundhog Day.
Cruise plays a soldier in a war against aliens who finds that whenever he gets killed, he just wakes up on the same day again. He seeks out the help of Blunt's character, who trains him to use his endless time loop to win the war against the alien invaders and the chemistry between the two stars has fuelled demand for a sequel for years.
5

A Quiet Place Part II (2021) – 91%
● Available on Paramount+
Taking place right after the events of the first film, A Quiet Place Part II features Emily Blunt as the main lead this time. It's very rare that a horror sequel manages to hit the same notes that made the original so good but somehow John Krasinski pulled it off with some arguing that Emily Blunt was an even stronger main character.
RELATED: A Quiet Place 2 & 9 Other Horror Sequels As Good As The Original
More monster action, more thrills, and more characters: A Quiet Place Part II is simply more of what everyone liked about A Quiet Place but on a bigger scale.
4

Sicario (2015) – 92%
● Available for purchase on Prime Video
Denis Villeneuve is often considered one of the greatest directors working today, and he's proven himself in a bunch of different genres including cerebral science-fiction, shocking real-world drama, immersive futuristic neo-noir, etc. With Sicario, he showed audiences that he could helm a mean action thriller.
It stars Emily Blunt as an in-over-her-head FBI agent who is sent across the border to assist in the takedown of a Mexican drug cartel. She finds her strict moral code tested by shady government officials played by Josh Brolin and Benicio del Toro, while the grisly things she witnesses in Mexico rock her to her core.
3

Looper (2012) – 93%
● Available on Starz
Before directing Star Wars: The Last Jedi, Rian Johnson gave movie fans a sharp and intelligent take on sci-fi action with this bizarre yet unique time travel story.
Joseph Gordon-Levitt plays a specific type of hitman that kills targets as they are sent back in time from the future. One day, his own future self, played by Bruce Willis, is sent to be his next victim. The plot gets even more complicated from there, as the older and younger versions of the main character fight to alter the course of history. Blunt stars as a crucial character in both their quests as the mother of a child who may grow up to become the future's most feared criminal kingpin.
2

The Muppets (2011) – 95%
● Available on Disney+ and Netflix
Jason Segel and Amy Adams are the real human stars of The Muppets, the self-aware 2011 reboot of Jim Henson's iconic franchise, but as with any Muppets movie, there is an abundance of A-list cameos. Emily Blunt is one of these, playing Miss Piggy's receptionist. Guest stars in Muppets movies can either play themselves or a fleeting fictional character who only appears briefly, but leaves a big impression.
It's arguable that the latter is the funniest. If she's only sticking around for one short scene, then seeing Blunt playing Miss Piggy's secretary is infinitely funnier than seeing her play a fictionalized version of herself.
1

A Quiet Place (2018) – 96%
● Available on Paramount+
John Krasinski has had quite a career since leaving The Office such as playing Jack Ryan for Amazon Prime and when he directed, co-wrote, and starred alongside his real-life wife Emily Blunt in the mostly silent horror thriller A Quiet Place.
In a post-apocalyptic future dominated by bloodthirsty aliens that feast on human flesh and have incredible hearing, one family struggles to survive in a life of nearly complete silence on a farm. Krasinski and his production team used sound masterfully in the film.
NEXT: 15 Sweat-Inducing Suspense Films To Watch If You Like A Quiet Place

Next
MCU: 9 Things About Nick Fury That Make No Sense

About The Author
Share this news on your Fb,Twitter and Whatsapp
News Nation USA: Latest News Headlines
News Nation USA||USA News||Science||Education||Sports||World