Movie/TV News
Below Deck: 6 Stewardesses Who Were The Best (& The 6 Worst)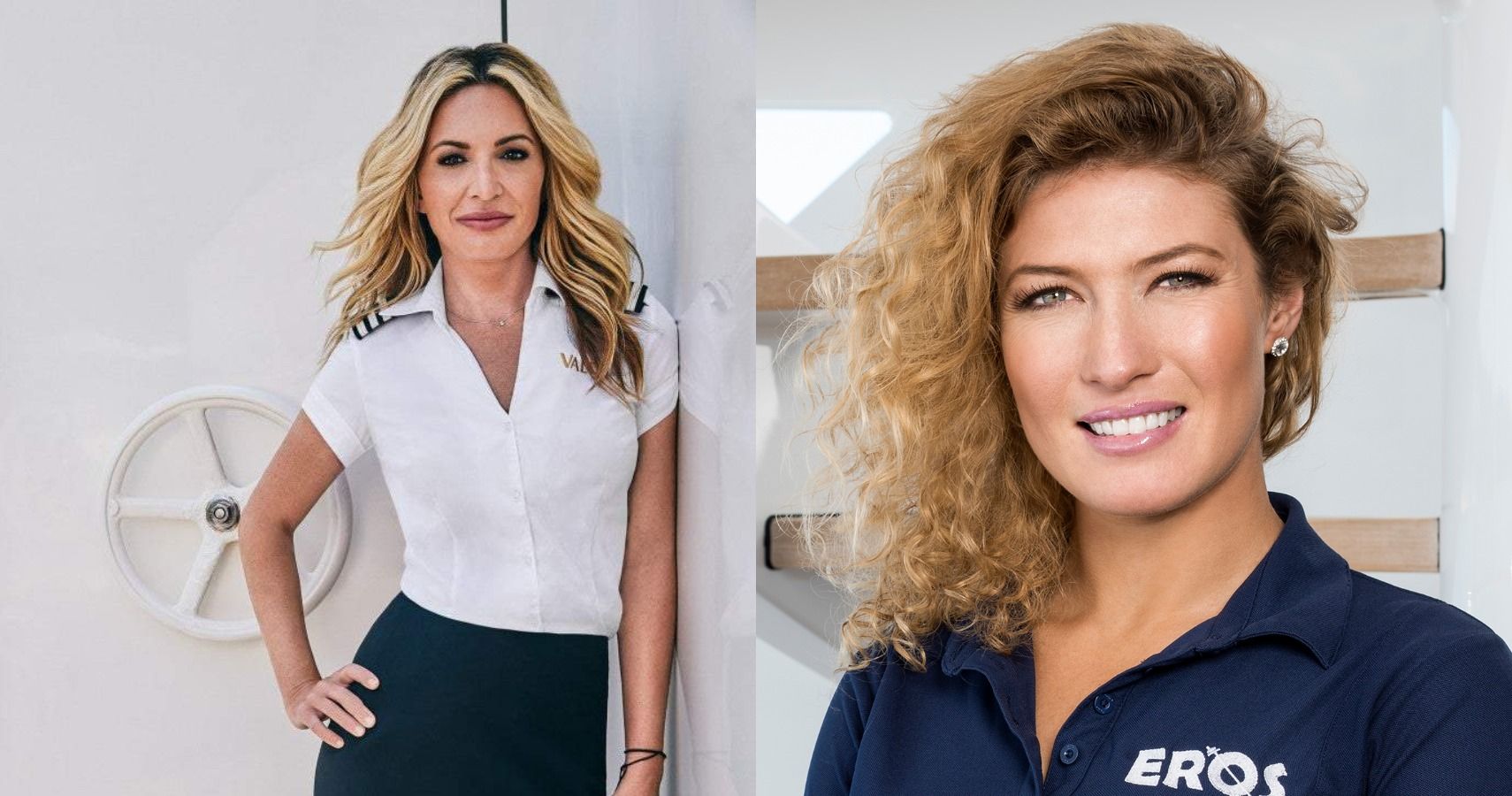 Below Deck is a show on Bravo that follows the crew of a superyacht as they serve guests and visit beautiful new locations. Captain Lee is the guiding force on these ships, while the stewardesses are the ones who cater to the guests' every need. They are both the waiters and the maid service as they spend most of their days cleaning and making drinks.
RELATED: 10 Reasons To Watch Below Deck
Some of these stewardesses were better than others as they either melded with the rest of the team or were left in the dust. Some stewardesses deserved praise, while some should have been handed a plane ticket home.
Updated on July 15th, 2021, by Lynn Gibbs: In 2013, Bravo dropped an entirely new reality show to its lineup based on the fabulous life of yachting, Below Deck. The show recently wrapped up its eighth season with Captain Lee as the reigning captain but every season has different stewardesses and deckhands. But every stewardess is different from the next. They each have their own forms of communication and reason for being in the yachting industry. As the season goes on, the stewardesses mix and mingle with the rest of crew and their true personality comes out. But which are the best and which are the worst?
12

Best: Emily Warburton-Adams (Season 4)
Emily Warburton-Adams was a London native who was excited to be at work after being in the yachting world for a few years already. One of her best qualities was always making sure the guests were having fun and joining them in a good time as well.
According to her Instagram, these days Emily is no longer in the yachting industry and not a Bravolebrity like Kate Chastain, but she's still a fan favorite for her bubbly personality and sweet nature.
11

Worst: Elizabeth Frankini (Season 8)
Elizabeth was on the most recent seasons of Below Deck and made quite the impression, but not in a good way. She was in the yachting world for four years and tried to have her healing crystals protect her from evil.
Like many yachties, Elizabeth found herself in a fling with James Hough and didn't put her full effort into work. In many scenes, Elizabeth was spaced out and not fully present. One fan on Reddit even suggested she lived in an alternate universe. She wasn't the most controversial Bravolebrity, but she wasn't the best.
10

Worst: Laura Betancourt (Season 6)
Fans had high hopes for Laura Betancourt after she replaced Caroline Bedol as the third stewardess in season 6, but viewers were sorely disappointed. She immediately came in and began criticizing everything that Kate Chastain was doing, instead of learning about yachting as she went.
Betancourt was scolded several times for her attitude and fans even saw in earlier episodes how her know-it-all persona wasn't right at all. They had to constantly correct her on how things should be done, which is not what one would expect from the seasoned professional she claimed to be.
9

Best: Courtney Skippon (Season 7)
Courtney Skippon threw fans for a loop during her opening interview when she talked about normally being the one who was served and how she loved attending glamorous parties. It seemed like she would quickly become one of the least favorites due to her less-than-perfect attitude, but it turns out she was one of the best.
RELATED: The Worst Guests On The Below Deck Yachts, Ranked
Skippon was able to make drinks and serve guests like a pro, despite being the third stewardess under Simone Mashile. Fans watched as she shined with the guests and gave Chastain little to complain about as she did her duties without stirring the pot.
8

Worst: Sierra Storm (Season 4)
Sierra Storm was not the sharpest tool in the shed as she managed to miss her flight to arrive at the yacht on time. She constantly clashed with Kate Chastain over things she should have been doing, like keeping track of her radio at all times.
Chastain even tried to tie her radio to her in order to help her remember but Storm refused based on her pride. The radio is one of the things every crew member on the reality show is supposed to have on them at all times in case of emergencies, and it was obvious that this stewardess didn't care about this little bit of information.
7

Best: Amy Johnson (Seasons 2 and 3)
Amy Johnson appeared on two seasons and at first, fans thought she might become one of the worst stewardesses they had ever seen. The first season brought arguments with Kate Chastain as she felt she was becoming the outcast, but the next season major changes were made.
RELATED: 5 Best Deckhands On Below Deck (& The 5 Worst)
Johnson stepped up her game and became the stewardess fans all knew she could be. She brought her Southern charm and was always smiling which seemed to put the guests at ease no matter what was happening.
6

Worst: Jennifer Howell (Season 5)
Jennifer Howell was a fairly lazy stewardess and cared more about her appearance at times than the feelings of the guests. She constantly refused Kate Chastain's orders as she felt she was out to get her. (If she thought Chastain was tough, imagine her with Captain Sandy.) She even slept in a time or two instead of waking up to do her job and still failed to understand why Chastain was angry with her.
Howell often made snarky comments toward Kate and then grew upset when she dished them right back. It was frustrating to watch and this is one stewardess fans wish had been given the boot.
5

Best: Brianna Adekeye (Season 5)
Brianna Adekeye was onboard during season 5 and fans loved her ability to stay beneath the radar. She never caused any trouble, but was able to listen to problems without becoming the center of attention.
Chastain was constantly fighting with Howell over her behavior, and Adekeye was able to continue to do her job without any issues throughout the drama. This is a rare thing to see during a Bravo reality show.
4

Worst: Raquel 'Rocky' Dakota (Season 3)
It is still unclear how Raquel Dakota managed to make it an entire season without receiving a ticket home because she pulled some fairly ridiculous stunts. The worst was when she stripped down to her skivvies and jumped overboard where she tried to board a different yacht.
It was quite ridiculous and for some reason, Captain Lee didn't see this as a fireable offense. Dakota also constantly complained about her work, as well as Chastain. She might have dreamed of Chastain being let go, but fans had a different stewardess in mind.
3

Best: Josiah Carter (Season 6)
Josiah Carter was trained as a butler, so fans knew he was probably going to succeed in the yachting industry. He acted like Kate Chastain's twin and was constantly a step ahead of what her next request was going to be in Below Deck's sixth season.
Carter had good ideas and was able to make incredible drinks that the guests loved throughout the show. It was a good thing Chastain had him to help during this season seeing as Caroline Bedol was basically useless.
2

Worst: Caroline Bedol (Season 6)
Caroline Bedol was the worst stewardess to be hired throughout the seasons as she barely did anything to help lighten the workload. It already wasn't going well before she injured her foot and had to be put on bed rest for a few days as she waited for the pain to go away.
Luckily, she finally gave a two-day notice, but then decided last minute that she was quitting immediately. Bedol refused to leave her cabin and even locked the door as she laid in bed and waited for Captain Lee so she could tell him herself about her immediate resignation…
1

Best: Kate Chastain
Kate Chastain has been on six consecutive seasons of the show as the Chief Stewardess and it takes skill to hold onto this position for such a long time. She ran the interior like a true queen as she catered to the guests' needs, organized parties, and tried to solve issues between her staff.
It wasn't always easy and sometimes she made mistakes, but her goal was always to please the charter guests. It is because of her that the tips are so large throughout the show as she turns what looks like a bad charter, into one of their dreams vacations.
NEXT: 10 Old Bravo TV Shows You Totally Forgot Existed

Next
10 Marvel Characters Who Are Smarter Than They Look

About The Author
Share this news on your Fb,Twitter and Whatsapp
News Nation USA: Latest News Headlines
News Nation USA||USA News||Science||Education||Sports||World