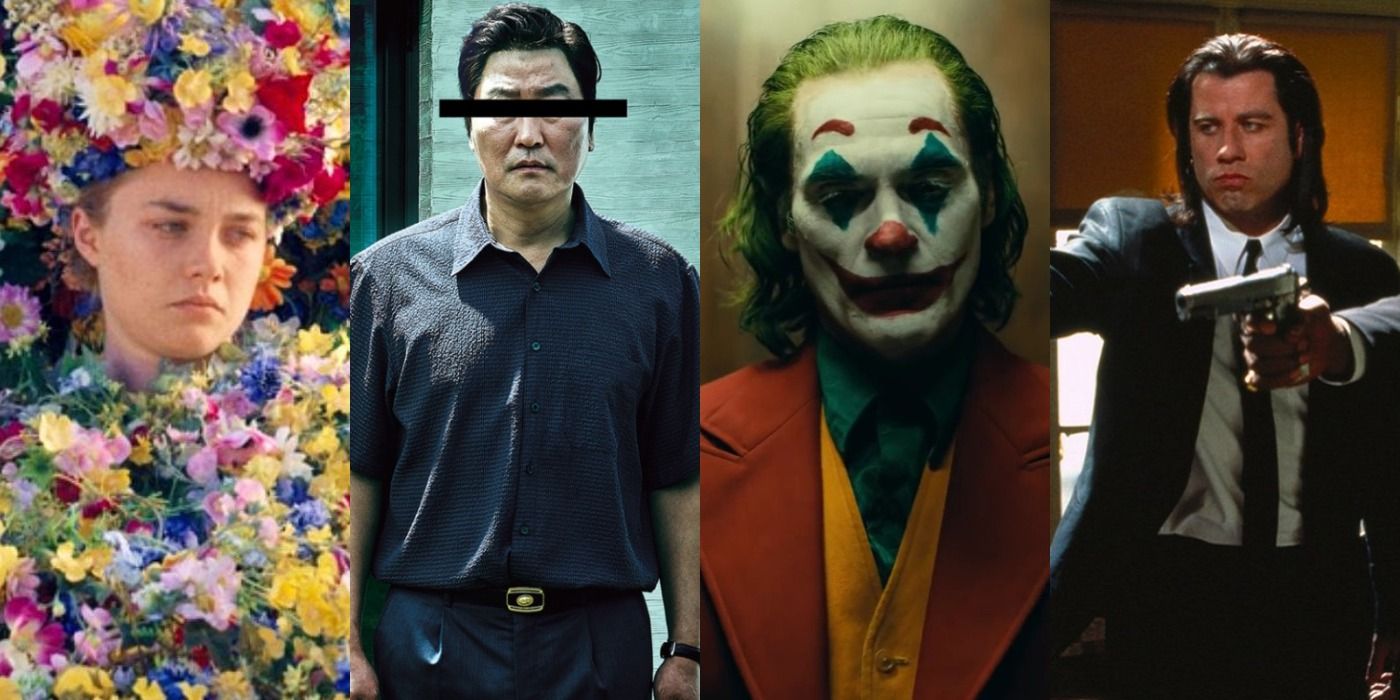 With Letterboxd quickly becoming one of the better up-and-coming film communities on the web, one asset to the community is being able to see which films are the most popular with community users.
RELATED: The 10 Most Popular Films Of The 2010s, According To Letterboxd
It's easy to see which films on Letterboxd have accumulated the most reviews on the sites, along with their subsequent number of "fans," people who select it as one of their top four favorite films. While the most popular films don't always mean the best quality films, most viewers would agree that they're universally loved movies.
Updated on December 27th, 2021, by Hannah Saab: As more iconic films continue to make their mark on the industry and attract a loyal following, the most reviewed, commented on, and loved movies on Letterboxd unsurprisingly constantly shift. With cult classics like Fight Club and newer releases like Midsommar making it onto the most popular films on the site, it's the perfect time to revisit the movies that have prompted the most discussions and reactions among Letterboxd fans.
10

The Dark Knight (2008) – Rating: 4.4, 31k Fans
It's not surprising that Christopher Nolan's The Dark Knight is among the most popular movies on Letterboxd. It was such a massive hit that it forced the Oscars to add more movies to the "Best Picture Category" – it had lines and characters embedded in modern culture, and it was a thrilling action film.
The film takes the best elements of Batman and the best elements of 1995's Heat and elevated it further with its intelligence and emotional weight. It still casts a massive shadow on both DC and the superhero genre as a whole but is still worth watching today.
9

Spider-Man: Into The Spider-Verse (2018) – Rating: 4.4, 27k Fans
The entire team behind Into the Spider-Verse was comprised of highly talented individuals working together to make one cohesive product, and thus, one of the best-animated films and simultaneously, one of the best superhero films ever made, was born.
RELATED: Every Version Of Spider-Man, Ranked From Weakest To Most Powerful
Making yet another Spider-Man film (especially with Sony) must have been a grueling task to sell to audiences, but rather than churn it out as a product, the team made a love letter to the genre and the character of Spider-Man. It remains a fresh new take on a saturated and ever-increasing genre, which means a lot of competition.
8

Fight Club (1999) – Rating: 4.3, 29k Fans
1999's Fight Club unsurprisingly became a cultural phenomenon when it was first released, with fans repeatedly (and hilariously) quoting the first rule of Fight Club wherever they went. Far from being just another action flick, the film's bold commentary on consumerism is portrayed in a creative way.
While most film buffs at this point likely already know the big twist in what's already considered a classic movie, audiences who have never seen it should jump headfirst into the story without knowing anything about it at all.
7

Get Out (2017) – Rating: 4.2, 6.6k Fans
Jordan Peele has established himself as a new auteur director, making the jump from comedy to horror seamlessly, largely due in part to incorporating comedy into his horror, like Sam Raimi. Get Out was not just one of the best films of the last decade, it is one of the best horror films of all time.
The film's theme and message can be understood by everybody at a single perfect moment of cinema. Thus, the masses flocked to talk about it and discuss their thoughts, the vast majority of which were highly positive.
6

Midsommar (2019) – Rating: 3.8, 14k Fans
Easily one of the more jarring movies about cults, Midsommar is a strange and often unsettling depiction of how far an average person will go when manipulated by a malevolent group. Dani's journey from being just another student to a capable cult member is told in a visually stunning way, which is even more impressive when contrasted with disturbing scenes of violence.
RELATED: 12 Scariest Midsommar Scenes We Can't Stop Thinking About
What makes Midsommar so unforgettable is that it takes viewers along for the terrifying ride and like Dani, they don't realize what exactly is going on around them until it's too late.
5

Inception (2010) – Rating: 4.2, 25k Fans
Inception is a mind-bending movie that deserves more than one viewing to be able to fully appreciate. Inception's many levels, subplots, and complicated action sequences won't appeal to everyone, but those who do enjoy its unique story are likely absorbed in Cobb's story from start to finish.
With its rotating sets and impressive performances from its talented cast, it's not too far-fetched to say that the ambitious movie has carved out its place in the film industry. Fans won't soon forget iconic scenes like the van falling from the bridge and its vague ending, which likely still lingers in some viewers' minds today.
4

Pulp Fiction (1994) – Rating: 4.3, 31k Fans
Never apologize for liking "mainstream" films like Pulp Fiction. Arguably the movie that got Tarantino to become a household name, the film's winding and bizarre narrative and brilliant Tarantino dialogue remain timeless to this day. Tarantino's penchant for violence is also immediately obvious through the film.
The film's impact on both pop culture and the art of movie-making remains palpable, and the fact that there are two Tarantino films on this list, and the fact that this is by far the oldest film on the list, speaks volumes to a director who managed to have his voice heard, and more importantly, remembered.
3

Knives Out (2019) – Rating: 4.0, 13k Fans
Knives Out is a love letter to classic murder mysteries and fun whodunnits, with its countless twists and turns, exciting accusations, and fast-paced sequences. It revolves around a dysfunctional family's arguments after the death of their patriarch and the reading of his controversial last will.
RELATED: 20 Best Movies Like Knives Out
While the movie doesn't introduce anything particularly groundbreaking to the tried and tested genre, it does what it set out to do extremely well. Its talented cast, well-written dialogue, and genuinely gripping story will keep audiences glued to their screens with each shocking revelation.
2

 Joker (2019) – Rating: 3.8, 8.8k Fans
Joker has one of the lowest ratings among the films on Letterboxd's most popular list, which is understandable. The film's controversial and somewhat derivate approach to telling its story has its moments but also had its slips. However, the jaw-dropping performance of Joaquin Phoenix (and his malnourished body) was undeniably mesmerizing.
Whether or not Joker was liked by its audience is irrelevant, as it opened the door to more unique and experimental stories to come from the superhero genre, and its recognition at the Oscars is a positive step.
1

Parasite (2019) – Rating: 4.6, 38k Fans
Parasite reigns supreme on Letterboxd and for a good reason. It remains as both the most popular film, and likewise, it is also the most highly rated. Bong Joon-ho is one of the most talented artists in the cinematic world right now, and his worldwide recognition with Parasite will only continue to fuel his success.
The film was the first non-English language film to win "Best Picture" at the Oscars, among several other prestigious awards. The movie's captivating performances, intriguing message, and unique ability to jump from hilarious to stressful make Parasite a must-see feature.
NEXT: 10 Movies From The 2010s That Are Already Considered Classics

Next
10 Quotes That Prove Hulk Is The Best Avenger In The MCU

About The Author
Share this news on your Fb,Twitter and Whatsapp
News Nation USA: Latest News Headlines
News Nation USA||USA News||Science||Education||Sports||World